UPCOMING
FREE E-WASTE COLLECTION FLYER

FUNDRAISER FOR: Granite Oaks CJSF Community Service Project
Saturday, May 10. 2014
9am-1pmFlyer
SCIENCE OLYMPIAD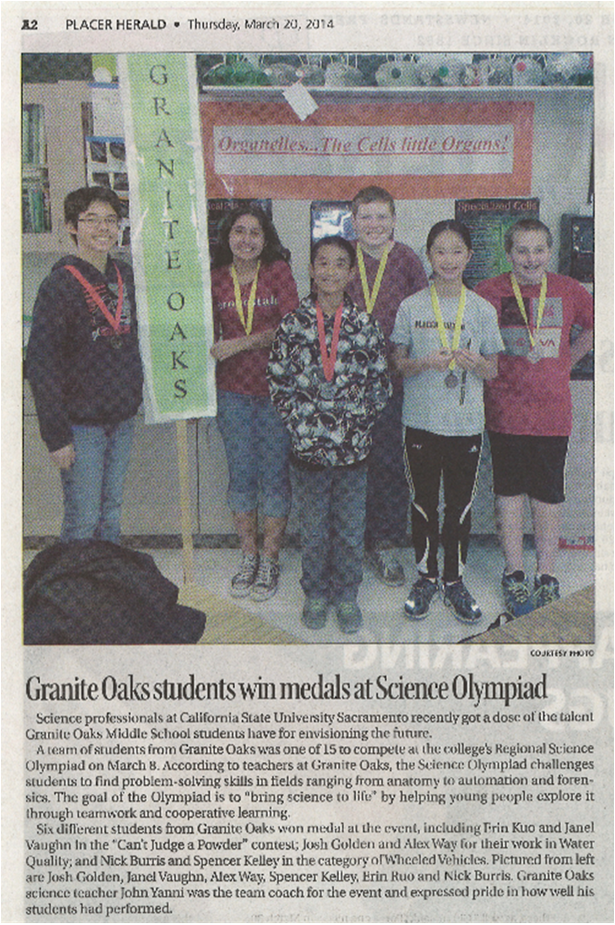 There is still time to sign up as an individual runner for the 11th annual Run Rocklin event that is on April 6th. Registration forms need to be post-marked by Friday, March 28, 2014. If you have more questions or you would like to register, please go to http://www.runrocklin.com/Run_Details.html. We hope to see you there.


We'd like to ask you to help fight the terrible diseases of Leukemia and Lymphoma. Leukemia is a cancer of the blood and Lymphoma is also a cancer that attacks the lymph nodes and glands, mostly in children and teenagers. This month, we have an opportunity to fill the white cardboard boxes you see in your classrooms with coins and dollars. Your donations will be given to the Pennies for Patients program to help fund research to stop these deadly diseases. Please give as much and as often as you can to help save young people from these awful diseases. The collections will be going on until the end of March. Please give generously if you can and THANK YOU!

Don't forget to do your part and recycle. Please walk those extra steps to the recycle bins and do your part for the environment and to help our charities. If you are apart of an athletic club on campus, please collect everyone's water or sports drink bottles at the end of practices or games. If you need a recycling bag, please see Ms. Moonshine.

DISTINGUISHED SCHOOL & BLUE RIBBON SCHOOL
Directions